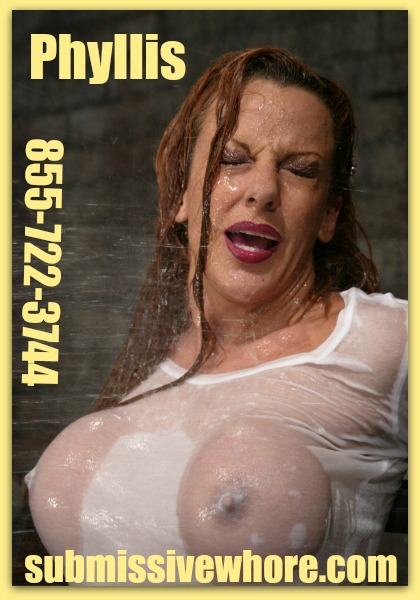 This heat is awful. Summer temps in the 90's are ruthless. My master had heard enough of my complaints. Complaints are not attractive in a sub. We are expected to be seen and not heard. He decided it was time to quieten my complaints. As he led me into the playroom, the term I had begun to call the basement, I noticed water hoses lying about. He restrained me much in my usual fashion, knotting my hands behind my back. Binding my arms together at the top, caused my breasts to jut out from my chest proudly. My legs were secured to the spreader bar. My restraints were attached to a wall hook, to further secure me in place.
My master said since the heat bothered me so, he had something to help relieve the discomfort. Unexpectedly, icy jets of water began hitting my body forcefully. It alternated hitting various places. When the ice cold water hit my pussy, it was almost like electric shocks coursing through my body. I yelped, perhaps a little too loudly. He aimed another jet at my face, instantly quieting me. A Sub is not to be heard he reminded me. He left a powerful jet hitting me in the face, one hitting my pussy, and two other jets aimed at my sensitive breasts. This left my senses reeling. The sensations both painful and exquisite, confused my body. I no longer knew what was pain and what was pleasure. I was disoriented. His last bit of torture for the day would be the large frozen icicle dildo he had attached to a long pole. From several feet away he began fucking my pussy with that frozen phallus. The ice hitting my insides further numbed me and was yet another attack to my senses. As my pain and pleasure hit an all time high, my mind give up the fight. The huge orgasm i experienced hit me so hard, I must have lost consciousness.
I awoke, dry and in a comfortable bed. A note on the bedside table advised I had completed my punishment. In the future, should I feel the urge to bitch and complain, I should remember today's lesson.