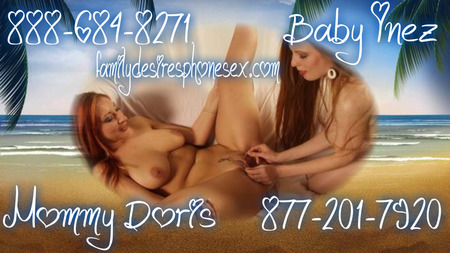 "Fuck me harder……oh God yes…POUND……THAT…..PUSSY!"
What the fuck? I was only gone for an hour to get groceries and Inez has some guy here fucking her tight bald pussy?
She knows the rules, NOT with out Mommy….EVER!
She knows that she gets punished when I catch her fucking with out me.
With an itchy palm and the "SLUT" paddle in my hand I headed for the sound of her voice.
It was cumming from MY room. Not only was she fucking with out me but she was doing it in my room?
When I opened the door I saw his sheepish grin.
He knew exactly what he was doing. He loves punishing her and he rarely gives her dick, loving to tease her and make her beg for it.
Daddy Wess, that sly old devil.
"Inez you were fucking with out Mommy. I hope my dick was worth it. Now it's time for Mommy and I to punish you." he said as he pulled his cock out of her tight pussy turning to show me his raging hard on.